Harlin's - 1284 Hamlin Highway - Seasonal Business on Leased Land
A great opportunity for anyone looking to take charge and run their own seasonal business! Turn key from day one, all the hard work has been done for you. Harlin's has earned a great reputation for its food, service and cleanliness. The business has grown every year since it opened and has a large and growing number of customers who continue to come back week after week. The Business includes the Trailer with all equipment,shed,supplies and inventory. Land is Leased from Pa. Licensed Realtors.
For your own private tour, call CENTURY 21 agent Leo Giombetti at (570)493-0801!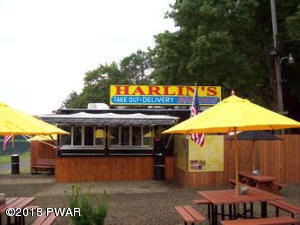 A great opportunity for anyone looking to take charge and run their own seasonal business. Turn key from day one, all the hard work has been done for you. Harlin's has earned a great reputation for its food, service and cleanliness. The business has grown every year since it opened and has a large and growing number of customers who continue to come back week after week. The Business includes the Trailer with all equipment,shed,supplies and inventory. Land is Leased from Pa. Licensed Realtors.

See Full Listing Details